Greetings to the Collective!
Our book is out NOW from Wiley Publishing. We're pretty excited!
Check out our Book Tour page for an event near you!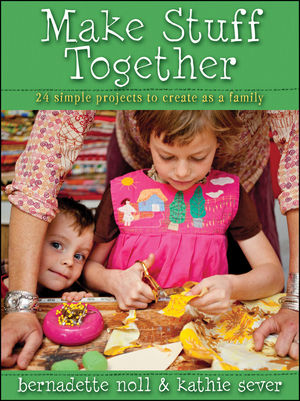 Make Stuff Together gives you 24 projects to build family connections while being creative and truly enjoying your time together. Really. It's about promoting creativity within the home and building connection through both the process and the finished projects. It's about slowing down. It's about reducing, reusing and recrafting. And it's about building connection at home and in your community.
Read more about us or go directly to our blog…
What are we doing?
We provide ways to build connection through crafting
We want to help kids and families return to the scrape, scrounge, dig, build, create approach to things
We offer projects that utilize holistically sound materials through upcycling, recrafting, green materials, etc.
We strive to help families focus on the process as well as the final projects
We want to provide a place for crafters and non-crafters alike to find inspiration and create connection
We serve up projects in bite-sized chunks that don't overwhelm or intimidate
We offer tips on ways to create an atmosphere that naturally leads to the discussion of our social environment
We offer ideas for the promotion of self expression
We want kids to understand the thrill of making over the desire of consumption
And we want kids and grown-ups to have the chance and information to craft and really and truly have a bunch of fun. Making stuff. Together.
Why do we do it?
We truly see this as an idea whose time has arrived, and one aimed to arm families, friends and community groups from all over with the tools they need to craft positive change in the world!!
And to make stuff together.
Who can help?
You can help us spread the word if you will…
Tell your friends. Give us a shout out on your blog or your website. List us in your favorites. Link us in your posts.  Leave us a comment + let us know how it's working for you.
And find us on Facebook where our book is already gathering up some big fans.
We love the connection of it all!
And take a gander at our

blog roll

over there in the sidebar. Some amazing sites doing some amazing work.